Australia and Portugal sign a new work and holiday visa arrangement
On 25 September 2014, Australia and Portugal announced that a new Work and Holiday arrangement for youth mobility was signed, establishing a reciprocal Work and Holiday visa (subclass 462) arrangement between our two countries.
This arrangement, when brought into effect, will allow up to 200 young adults from Portugal and up to 200 young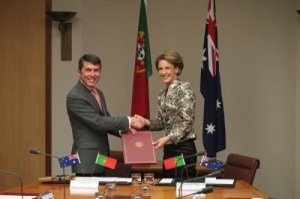 adults from Australia to enjoy a holiday in each other's country, during which they may undertake short term work and study.
In the coming months, Australia and Portugal will work closely together to implement the necessary legal and administrative processes to bring this visa into effect. The work and holiday arrangement will not commence until a start date has been agreed by both countries.
When a commencement date has been announced, eligible young adults from Portugal and Australia will be able to apply for this visa.
This Is Australia and affiliates have provided professional advice and assistance with all visa applications for over 10 years. We are the experts in all visa matters. Call us today on (07) 5592 0755.
Book an appointment with us to discuss courses and prices.